Go up
Poker News
by
johnny_gun
You have to be extremely lucky to be born in a country where it's convenient to live. You need at least as much luck as you would need to win multi table tournaments. But why rely on luck? Poker gives us an excellent opportunity to work from any place in the world. Therefore, why not search the world looking for the best countries to live in?
This article is going to be the first in a series of articles about cities and countries suitable for living in and playing poker. The first article is dedicated to Malta. There are many poker rooms and online casinos headquartered here.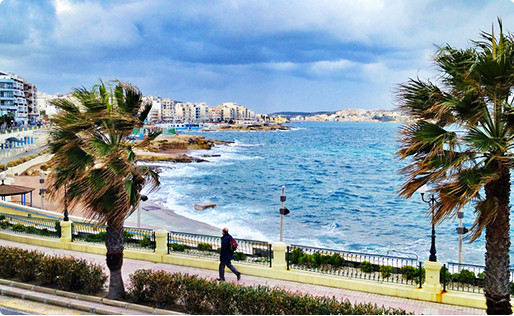 Malta is located in the central part of the Mediterranean Sea, south of Sicily and to the north of Africa.The most widespread languages on this island of 417,000 inhabitants are Maltese and English. The main currency is the euro. Malta is famous for its low level of crime and its hospitality.
Climate
If you cannot enjoy winter without snow like you cannot enjoy gin without tonic, Malta is not the best choice for you. During the summer, it is quite hot and dry here. During the winter, the temperature hardly ever drops below 10°C (50°F). However, it won't take much time to adjust to the Mediterranean climate. The fresh sea breezes won't let you feel too hot here, and the summer months usually don't feature rain. It is quite rainy between October and March, however.
Cost of Living
You won't have to move up to high limits to pay your rent in Malta, because prices here are much lower than in most European countries. In order to have a comfortable life, you just need to be able to beat NL50.
You will be able to rent a modest 1-bedroom apartment with a bathroom, located in the center of the city, for just $400 - $500. Renting an apartment located uptown will cost you just $270 - $470. 
However, if you're going to live with a bunch of friends or just don't care about saving money, then you should think about renting a villa. You can get 3 or 4 bedrooms with bathrooms, a swimming pool, a fully equipped kitchen, a large lounge and a garage. Such a luxury villa will cost you $2,000 - $2,300 per month.
Let's talk about bills. The average monthly payment for electricity, heating, water and garbage disposal for an 85-square-meter apartment will be $100. Be ready to add $25 for your 6 mbps internet connection.
Meals
National Maltese cuisine is a mixture of European and Eastern traditions. It is understandable that most meals are based on seafood - don't forget that we're talking about an island! The most well-known meal is Maltese rabbit. The meat is fried until it has a bronze crust and then stewed in red wine.
Dinner, including three courses for two, in a mid-tier restaurant - $56.00
Combo in a fast food restaurant (McDonalds) - $10.40  
Local beer in a pub (1 pint) — $2.80
Cappuccino — $2.15
You will be able to find numerous fresh and tasty products in local markets and stores. Prices are reasonable, and the products are really good.
Milk (1 l) — $1.20
Eggs (dozen) — $2.80  
Chicken breast (1 kg) — $7.80
Local cheese (1 kg) — $11.00  
Oranges (1 kg) — $2.60  
Bottle of wine — $5.70  
Bottle of water (1.5 l) — $0.80  
Cigarettes (Marlboro) — $6.00
Transport
The island is quite small. The distance between the furthest spots is just 27 km. Therefore, you can easily survive without your own car. The main means of transportation is mass transit. All old buses were replaced with modern ones equipped with air conditioners in 2011. It will take you approximately 20 minutes to reach your destination on average.
Taxis are quite expensive. However, if you don't wish to pay too much, choose a taxi with counters.
Mass transit (one-way ticket) — $2.00
Taxi (1 km) — $2.40  
Gas (1 l) — $1.95
There's another advantage we should mention. Low-cost airline Ryanair flies to Malta. You can easily fly to Marseille, Venice, Bologna, Barcelona and Liverpool. It will cost you up to $35 (one way).
What to do
Thanks to the wonderful climate and sandy beaches, Malta is a place where you can enjoy every single day. You can try scuba diving, water-skiing and yachting. In addition, you should definitely explore the exciting night life of the country. You will find numerous night clubs and pubs. Famous artists including Paul Oakenfold and Tiësto come here quite often.
If you prefer more active leisure activities, Maltese people like football, shooting, hiking and fishing.
Monthly pass to a gym — $50
Tennis court rental (1 hour) — $22
Cinema tickets (international opening night) — $9
Poker and Casino
Online poker is legal in Malta. However, you can also take a shot at live poker. For instance, the Portomaso Casino located in Saint Julian's has its own poker room. They organize cash games and tournaments on a daily basis. Buyins range from €10 to €1,500.
The island is sometimes included in the schedules of famous poker series. For instance, the WPT came here in 2011. The Portomaso poker room organizes its own tournaments. There will be a €550 Portomaso Poker Cup with a €50,000 guaranteed prize pool in June.
Portomaso is not the only place to play poker. You can find dozens of other poker rooms located in different places on the island. Therefore, if you move to Malta, you won't change just your lifestyle; you'll also explore new poker horizons.
Many famous poker players have already chosen Malta. For instance, Justin "ZeeJustin" Bonomo moved here. "Malta is friendly to online poker and foreigners. When I have breaks between my poker sessions, I am planning to ride a bike and go to Sicily on the ferry," said Bonomo.