Go up
Poker News
by
Macropoker_RU
PokerStars Super Tuesday is the most expensive recurring online poker tournament with the hardest lineup. Victory means one of the most prestigious poker trophies. This event is one-of-a-kind and the challenge of battling high-rollers stands apart from the Sunday Majors. Every week it gathers the best players in the world. Today, we would like to tell you about some poker players whose lives have been affected by this tournament in a significant way.
The smallest and the biggest — Assad91
One of the most extraordinary Super Tuesday participants is Norwegian pro Assad91. In just one year, he took three successful shots in this elite event. First, he took 2nd place ($76,720) in August of 2013. Then, on the 1st of January 2014, in one of the most modest Super Tuesdays in history (283 participants), he outplayed his opponents and chopped it heads-up ($46,815), but again, the Norwegian had to settle with the silver.
On the 11th of September, Assad won the biggest Super Tuesday ever held. He outlasted 1,847 players and earned the title of WCOOP champion and $303,000.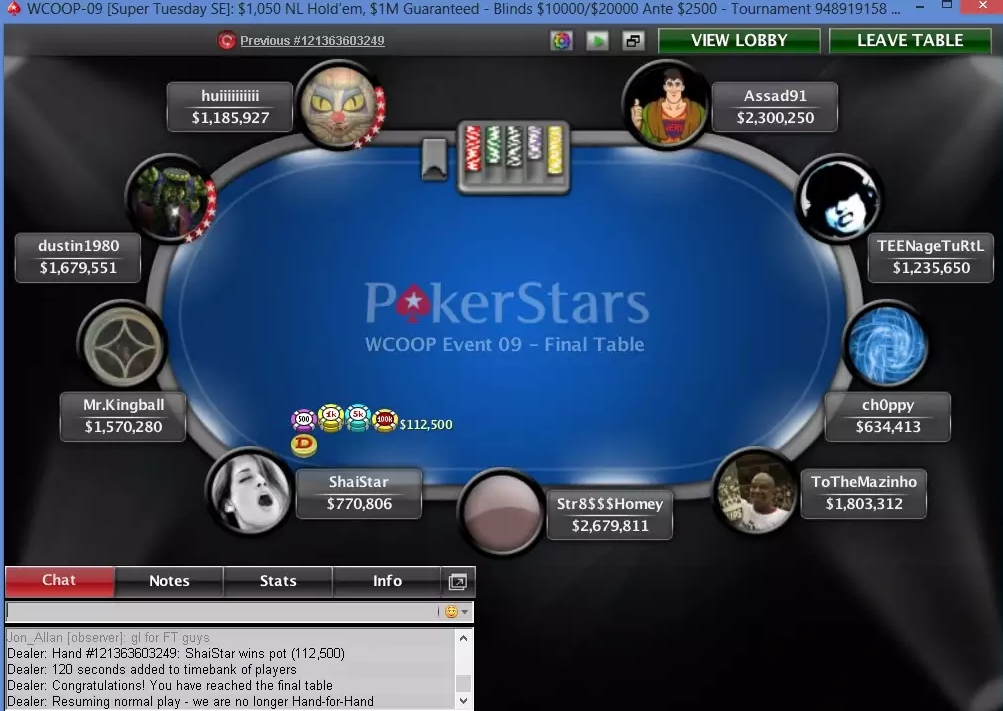 After a triumph like that, what would you do? Our mind flew to a foam party somewhere on Maldives, a gaudy aloha shirt, cocktails, and hot chicks in thongs. But it will be recalled that Assad is a non-drinker, even on the 1st of January, as he usually wins tournaments on that day. So, he had a short rest after this bink and only six days later, he won another WCOOP bracelet. But that's quite a different story.

One time — bullyboy1978
Only three months ago, the poker career of an Irish player, bullyboy1978, left much to be desired: 836 tournaments he played had taken several hundred hours from him, leaving only losses in return. But things changed for him this September when he won an $11 satellite to a special Super Tuesday that took place as part of the WCOOP.
He got his money's worth: bullyboy1978 won the bracelet, earned $240,000, and still holds first place in terms of ROI in the Super Tuesday at 22,744%. He hasn't been playing much poker since that time and never took a second shot at $1K tournaments. Good boy.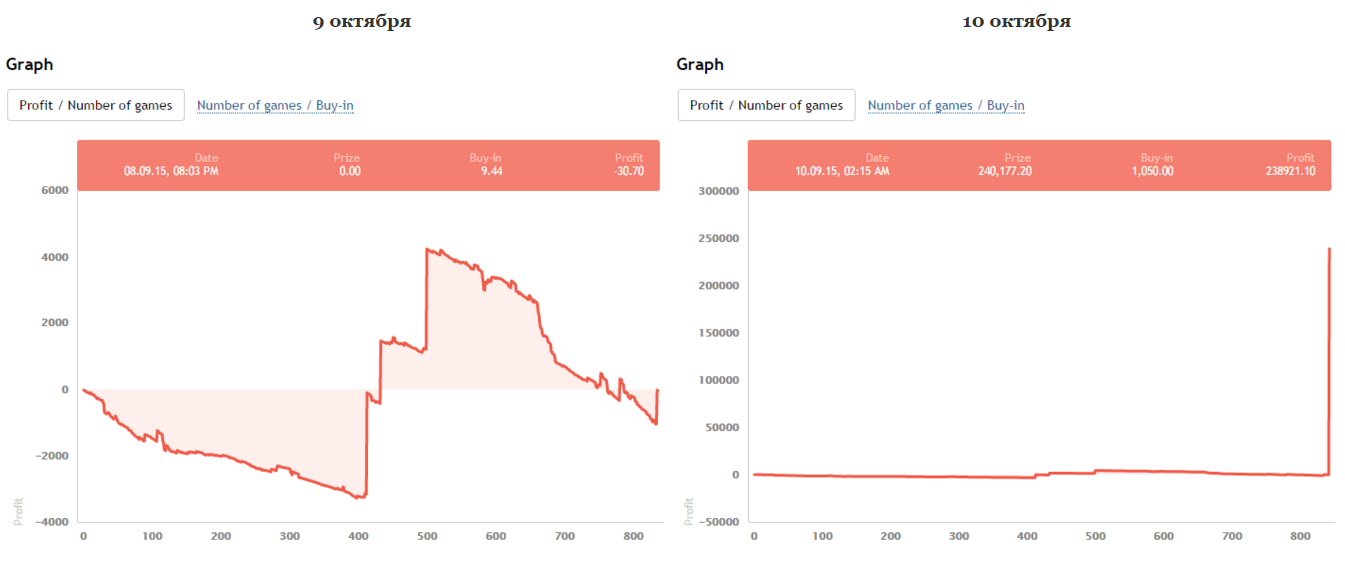 Top, little pot, stop — SuchADegen
Each of us has tournaments he favors most and the ones he favors least. It's hard to say how an Austrian player, SuchADegen, labels the "Super Tuesday". On the one hand, he played it 42 times. On the other — he never hit ITM there. However, this poker player never gives up and is still trying to overcome his fate — he again took part in the last ST on Dec. 23 (with the same result, sorry to say).
RenRad 01, a player from Mexico, is only 1 tournament behind SuchADegen. 41 attempts — and he, too, has never seen the long-awaited message in the chat: "We are no longer Hand-For-Hand."
At that, we discourage you from thinking that both of them just can't tell a flop from a full house — their careers show impressive results. For instance, SuchADegen has won Sunday 500 ($67K), and RenRad 01 is a $215 WCOOP+R champion ($144K). The "tournaments under $1,000" filter shows that they are both profitable:


Of course, it's not us who can advise the highrollers. But guys, maybe... to hell with the "Tuesday"?..
I Am Legend — Leqenden
The bankrolls of the majority of online players are less than one Super Tuesday buy-in. Some of them, as we mentioned above, have another problem: they have gotten the money but never finished ITM. But bitter failures of some are always balanced by intoxicating successes of others; that's the way the world and poker wag.
Yes, there are two-time winners of the Super Tuesday. One of them, the first star of Belarus, Leqenden, won it both times in 2015. Leqenden won his first Super Tuesday at the start of the year and earned $102,410. On December 1, he reached fourth place ($36,080). And in the end of December he became the 14th two-time winner of this tournament. We can only congratulate him and pretend we're not jealous.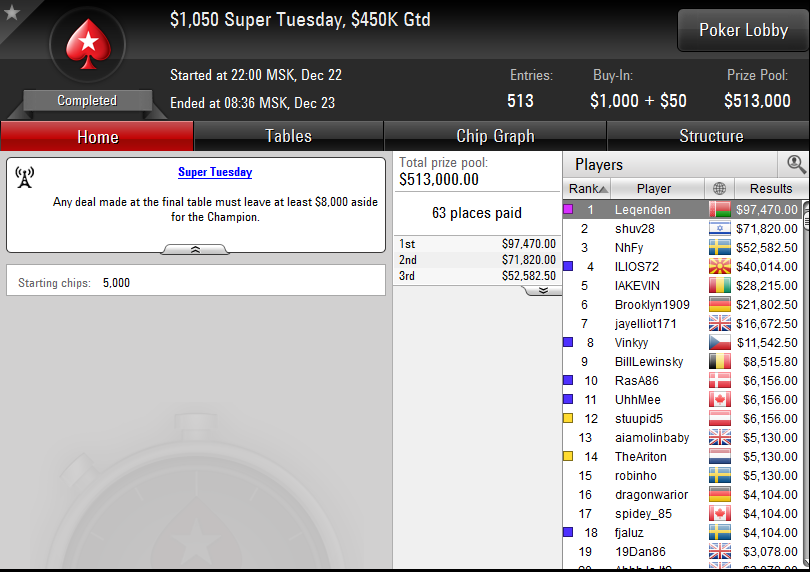 Some interesting facts about the "Super Tuesday":
175 tournaments — this sample was used in making of this article, starting with the "Super Tuesday" of Jun. 20, 2012 and ending with Leqenden's triumph on the 22nd of December. 14,623 took part in the tournament at least once in this period of time. 440 people played the "Super Tuesday" more than 50 times. 192 of them became profitable. 1,848 players were gathered by the biggest "Super Tuesday" ever held — it took place on Sept. 11, 2014 within the WCOOP Series. 689 players took part in the biggest "non-serial" "Super Tuesday". 283 players were gathered by the smallest ST — it took place on Jan. 1, 2014. 532participants is the average field size of ST. 14 players won this tournament twice. No one yet managed to do it thrice.
P.S. "Super Tuesday" comes from American slang. "Super Tuesday" is a Tuesday in early February or March in a Presidential election year when most of the states hold primary elections. The next one is on March 1, 2016.